Live X recently created the graphics workflow, projection mapping and display programming for Nickelodeon's upfronts, presented at Jazz at Lincoln Center.
The upfront's overall live show display was comprised of 9 canvased projection surfaces, pixel driven LED sources, and other light instruments. The display map system design included ten 30k Barco projectors and over 800 feet of HD LED Blades. Live X developed control solutions for the Blades including graphic display driven by video assets, and RGB fixture style control. Both control styles were available to lighting desk via Artnet and Video Village control in a mix/dissolve manner in realtime.
Key to the success of the event were seamless previsualization engines and the overall graphics workflow created by Live X Creative Director, Brandon Epperson.
"I consulted the content teams on delivery and design approach of assets, using our software templates in Cinema 4D, AfterEffects, and Keynote, that could be seamlessly transferrable to the live show display system," said Brandon. "Using the same assets in rehearsal as we would use in the show made previsualization more reliable, and greatly streamlined overall graphics creation."
"It was especially helpful in identifying sightline issues and other design considerations early in the rehearsal / previsualization stage."
Some projection / light system technical details:
Live X servers running Touch Designer converted ArtNET data into a video raster via a fixture control mode, as well as via video mode (with content bins), and both were made available to the lighting desk, which would mix output between the two modes. Then that final, Artnet mixed raster could be composited again, as both the lighting and VJ desks had potential influence of the LED display in realtime.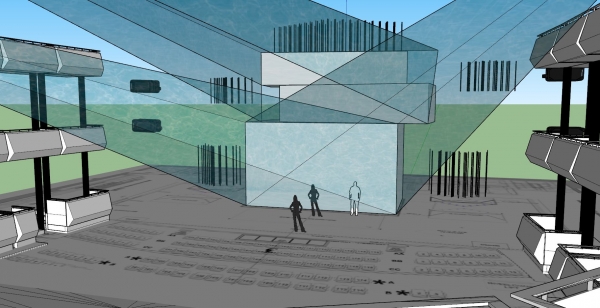 "The show was gorgeous and went smoothly in performance," said Brandon. "We were proud of it! The cartoon artwork on that canvas was bright and rich. Nickelodeon is also an easy brand to work with. Strong cultural mission with clear identity and highly professional at every level."
Read more about the event in Deadline's article