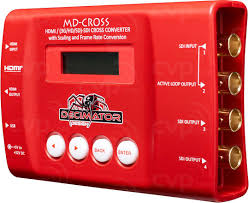 Today we get a first look at the Decimator MD Cross V2 Converter.
Like the swiss army knife of converters - with 14 modes of input-output conversion, it can do a lot of what a Folsom ImagePro scan converter can do.
• 3G SDI and HDMI input
• Configurable input and output
• Horizontal and Vertical Flip, and scale
• Can be used as a 1 to 4 distribution amplifier.
• Includes 3G/HD/SD Test Pattern Generator featuring:
- 26 Selectable Output Formats
- 54 Test Patterns including Luma and Chroma Zone-plates
• This unit also includes:
- (3G/HD/SD)-SDI Active Loop-Through Output
- Full 16-Channel Audio Metering Overlays
- Adjustable Safe Title and Safe Action Overlays and
static Center Cross
- Text Overlays
- USB port for control and firmware updates
- New Metal Thread Locking DC Power Socket
- Power Supply, HDMI Cable and USB Cable
See full details at Decimator.com.
For more Live X Unboxings: