The Live X team will be covering a lot of ground at NAB 2018. We're producing three days of live shows in Wowza Studio Sessions, featuring live broadcast and streaming industry leaders, while Production Bot is showcasing NDI capabilities at NDI Central.
Join Live X and Ready Take Live co-hosts Rob Baynard and Aubrey Russell as they produce Wowza Studio Sessions, live on Facebook from the 2018 NAB Showcase with Wowza Media Systems.
Throughout the three days of shows guests will include industry experts from Microsoft, Cheddar, Vox Media, Streaming Media Magazine and more! All of these exclusive interviews will be featured online at the Wowza Facebook page.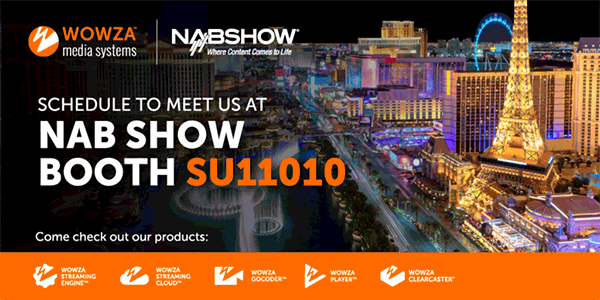 Our partnership with the Production Bot, will also be featured at the interactive Booth #SL5516 and suite for the 2018 NAB showcase. If you will be attending the event, come by for demos, meet and greets, SWAG and more!

For more updates on everything Live X, follow the Producers Blog and Subscribe to our Youtube page.