See where the world of online video is going and find out how to get there first by joining Streaming Media East 2022, featuring LiveX co-founder Corey Behnke as a featured speaker and moderator!
Streaming Media East will be held in Boston, MA on May 23 - 25. The three day, in-person event will offer practical advice, inspiring thought leadership, and in-depth training in all aspects of the live streaming space.
Behnke will participate in two panels on Tuesday, May 24th.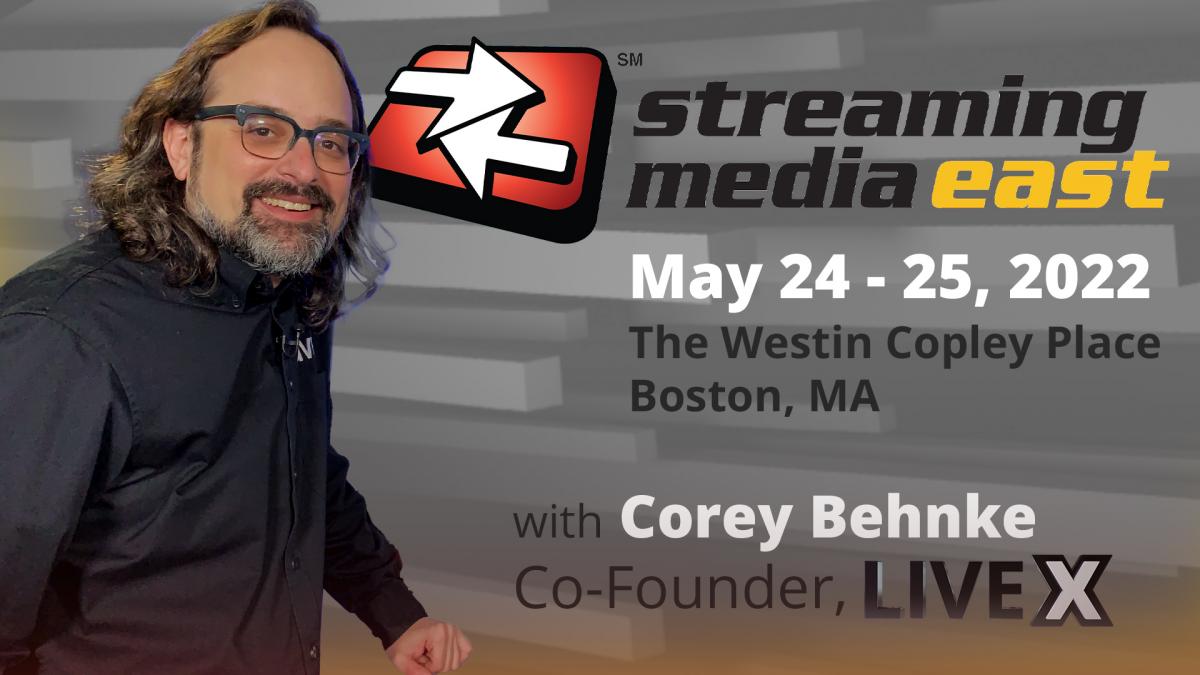 First up at 2:30 pm est will be Delivering Reliable Live Streams At Scale, a panel discussion regarding the current state of streaming infrastructure and what you need to know to maintain five-nines streaming reliability when it matters most.
Later on Tuesday, Behnke will moderate a panel titled Remote/Hybrid Production Workflows: The New Normal?
What's the new normal for remote/hybrid production workflows? Hear what our experts from @livexproduction, @CNN / @wbd, @Signiant, and @LiveU have to say about it during #StreamingEast in Boston. Register now to join them! https://t.co/vtxiODbz8D pic.twitter.com/2MBIjtowTh

— Streaming Media (@streamingmedia) May 16, 2022
A look at how remote production proved not only viable but, in many cases, greatly advantageous during the pandemic and how it reduced the number of crew required onsite, cut down on lost travel time, limited in-venue expenses, and enabled outfits running large and concurrent events to work more efficiently. Behnke will lead a discussion on what kind of hybrid workflows experts see emerging, with the possibility of master control, technical direction, graphics, and other production elements being managed off-site.
Be sure to register on the Streaming Media website for what promises to be a week of cutting edge information and education that you can't find anywhere else.