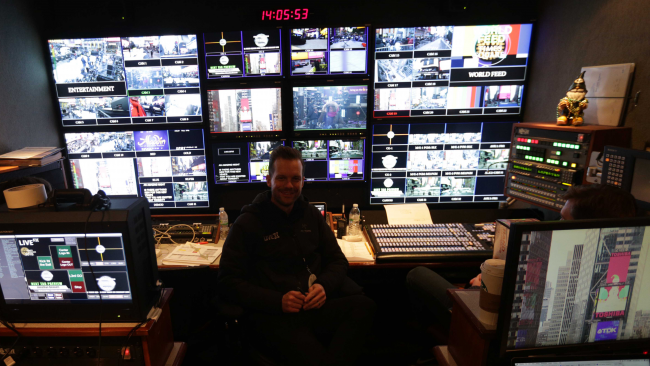 Live X produced the official webcast of New Year's Eve in Time Square. Host Jonathan Bennett returned again to charm and cheer the audience celebrating in the square, and to connect to the millions watching online from all around the world. He was joined by our correspondents Jeremy Hassell, Andrea Boehlke, and Mike Abbott interviewing revelers in the Square, and we rocked along to performances from Andy Grammer, Lauren Alaina, Leslie Grace and more.
The six-hour live webcast, which drew in over 3 million views, is part of the global Balldrop event produced by the Times Square Alliance and Countdown Entertainment, watched live by over 1 billion people worldwide.
Live X writes and manages the creative for the webcast, and also handles all the technical aspects beyond core infrastructure. The webcast uses 33 cameras, including 27 from the main production Pool, 3 webcast field production team cameras getting reveler interviews, and 3 cameras positioned on the Webcast/Kiss stage at the center of the Times Square bowtie at Broadway and 44th street.
We also used Teradek Bonds and Cubes, in conjunction with Silvus Technologies' MANET Mesh radio system for successful wireless camera transmission amidst the intense RF traffic during New Year's Eve in Times Square. Teradek featured the story in their blog: Read the full Teradek Blog Post.
The Program feed was cut in AMV's Maverick production truck, and transmitted via fiber to Live X Studio and Master Control in Hudson Yards, where our encoding team streamed the feed to Livestream and Periscope Live/Twitter on Production Bot encoders and to Facebook Live on Wowza's new Clearcaster appliance.
Finally, since communication is critical in live production, we deployed a Clearcom Freespeak wireless comm system, which proved robust enough to navigate the most difficult RF environment in the world, and flawlessly connected webcast staff in the field, the truck, and master control.