Live X provided a custom real-time graphics playout solution, in addition to technical direction and multi-distribution to 33 Facebook pages for SB Nation NFL Draft Party LIVE 2017.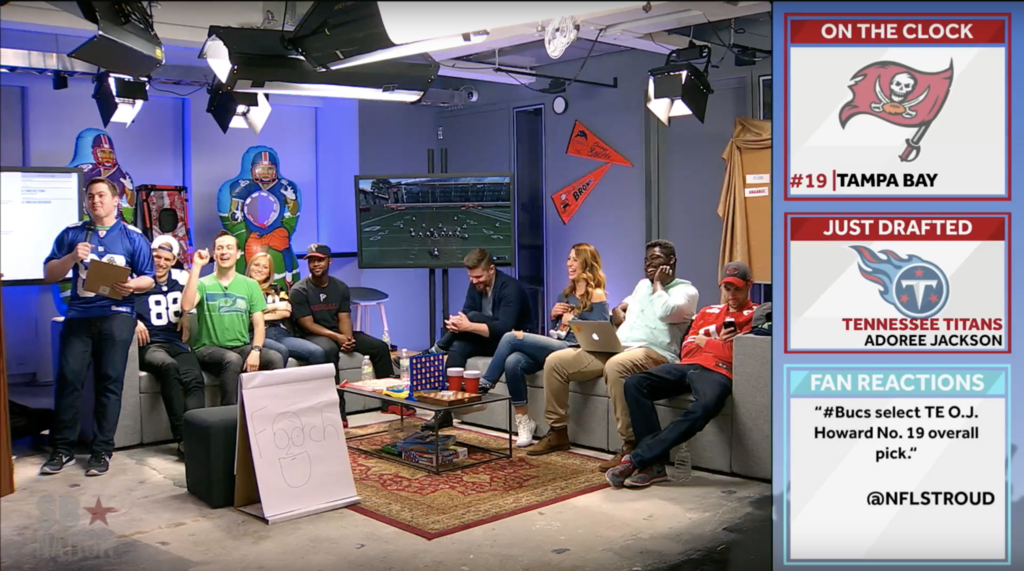 We worked with SB Nation to provide their social teams with an easy interface for quickly adding tweets, countdowns, team and player info to a professional reverse-L bar as seen on cable sports media channels. With last minute trades and breaking news, in addition to massive fan interaction across social channels, the NFL Draft is a highly dynamic information environment. Bringing updated text and graphics into a broadcast in real-time enhanced the user experience and put the SB Nation execution on par with large scale television outlets.
Such a system previously would have required months of custom development and training beyond the reach of in-house media teams. Live X developed a graphics system in Touch Designer, working from graphic design by the SB Nation team, and played the GFX out via Production Bot.
Another successful solution in the production was Live X distributing the stream to 33 Facebook pages. Working closely with Teradek on the tiered sputnik setup in Core, we distributed the stream to all of SB Nations NFL team pages.
Watch the video and read all the details in the great post from Teradek: An All-Star Draft Party With Core.