One of our first projects in the new Live X Studio was an album launch FB Live stream for Grammy-winning recording artist, St. Vincent.
We were given the challenge of creating a distinct St. Vincent look, matching the background and lighting from a previous tour announcement. Excited fans recognized the background and had tons of questions for the performer. Questions were gathered from facebook comments and added to the teleprompter in real-time, so the performer could read fan questions without breaking stride. Q & A allowed for the artist to directly interact with fans. This interaction added a layer of spontaneity and intimacy as fans got to know their favorite artist.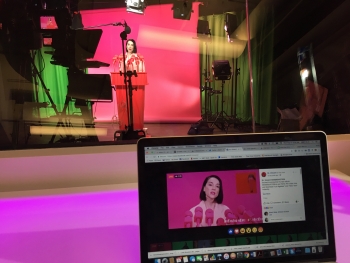 Our open office allowed the artist to collaborate with her team and relax before and after shooting.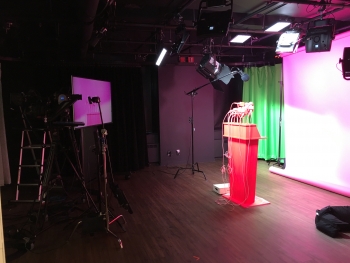 The announcement was shot on two Blackmagic Ursa Mini Pro 4K cameras. We switched cameras and launched graphics on a Production Bot Switch 8 and encoded on a Production Bot Rack. A custom overlay scroll bar was created by Live X to create the mock press conference look the artist wanted.
At the end of the press conference we launched the artists new music video. Our high-fidelity audio system ensured the music video on the stream rocked!