Powerful, simple, and reliable Internet is needed everywhere and anywhere these days, no matter if you're producing a large event in a major metropolitan area or a client is in a remote location looking to livestream to the world at large.
Castle Case is an Internet-in-a-box kit that provides you and your team with everything needed to set up your own private and secure network. We're thrilled to be offering Castle Cases here at LiveX!
Using modern design and engineering processes, Castle Point Technologies took top quality networking and WiFi components and engineered them into a single case, with a simple one-button operation.
These rugged cases can supply speeds up to 75Mbps. As long as there is cell reception, you've got enterprise-grade Internet for your team.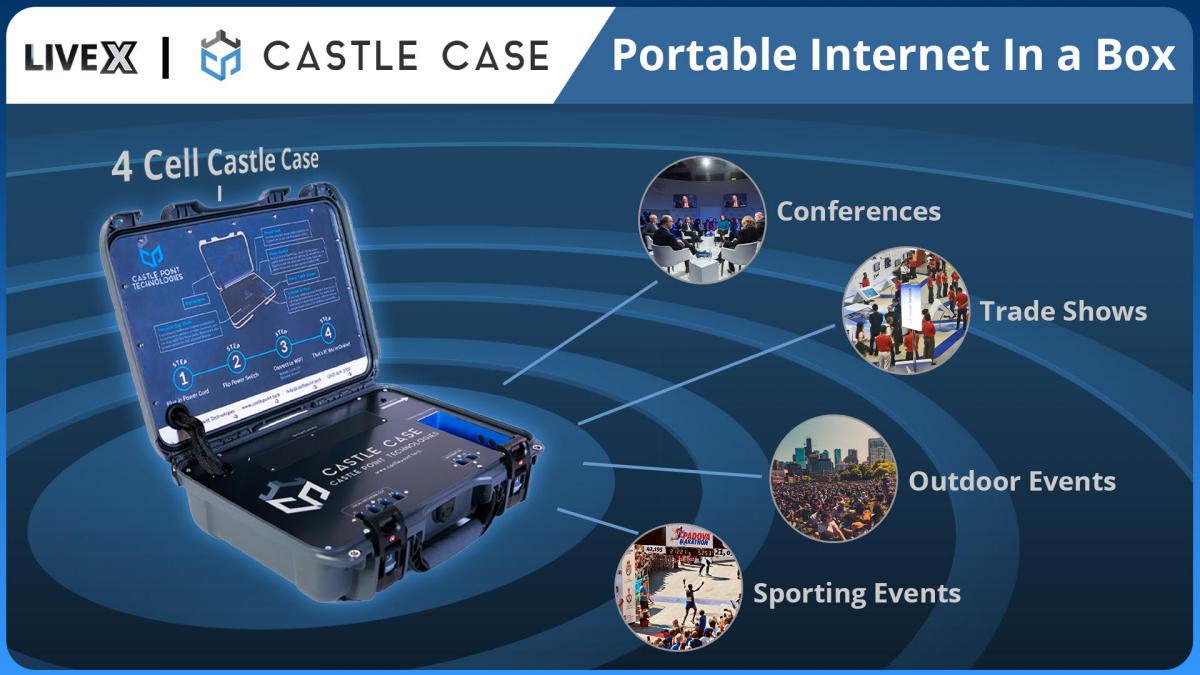 SPECS:
Cellular Modems: 4x Cat 12 LTE-A (Bonded)
Cellular Modem Datarate: 600 Down/15o Up
Wired WAN: 2x Gigabit Ethernet
WiFi as WAN: 1x WiFi as WAN
Wired LAN: 4x Gigabit Ethernet
PoE: 4x 802.3af PoE ports
Power: 120V AC
Case: Lightweight, impact resistant resin
Cellular Antennas: 8x high gain cellular antennas

WiFi Antennas: 4x high gain WiFi antennas
WiFi Frequencies: 2.4Ghz and 5Ghz
WiFi Standards: 802.11ac/b/g/n, 1166 Mbps 2x2 MIMO
Max Users: 500
Router Throughput: 2.5 Gbps
Weight: 23 lbs.
Dimensions: 22" x 14" x 9"
Operating Temperature: -40°F to +149°F
Data Usage Caps: Unlimited
Support: 24 x 7 x 365
If you're interested in renting or learning more about Castle Cases, please email us at [email protected]