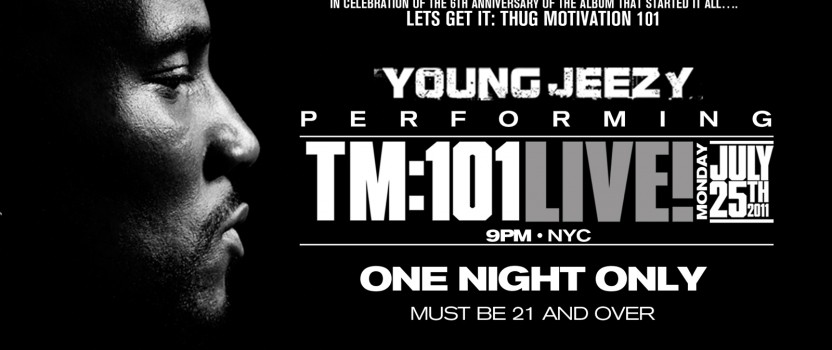 Directed this 4 camera live show from Highline Ballroom. Show featured guests Jay Z and Kanye West.
Rolling Stone: Young Jeezy Joined Onstage in NYC by Jay-Z, Kanye West
Last night, the Snowman started his set with fan favorites off TM101 like "Standing Ovation" and "Get Your Mind Right." (The show had been billed as Jeezy performing the album in its entirety.)
But just a few minutes later, Young Jeezy turned the mic over as surprise guest Jay-Z swooped in and gave an extra dose of lyrical adrenaline of the remix to "Go Crazy": "More than a hustla I'm the definition of it," Jay rapped. "Master chef, lord of the kitchen cupboard/ More than a street legend, homie it's Hova/ More than a relief pitcher, I'm the closer."
Then, things got crazier: The Jiggaman's "Throne" partner Kanye West came out for "Put On," off of Jeezy's last album The Recession (2008). Bun B came out for "Trap or Die," while Fabolous helped out on "Flexin" and "Rollin." Fab then got a chance to showcase his own material with "You Be Killin Em."
More Press links:
MTV: http://www.mtv.com/news/1667911/young-jeezy-kanye-jay-z-new-york-performance/
Village Voice: http://blogs.villagevoice.com/music/2011/07/young_jeezy_highline_ballroom_jay_z_kanye_west_review.php